Welcome to the home page of Wavesmith™ and the David Sherman Engineering Company.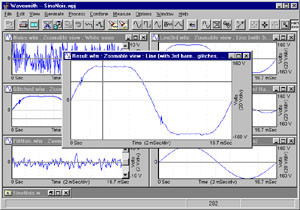 Wavesmith is a versatile analog waveform development system which allows you to quickly and accurately develop waveforms for electronic design and manufacturing test applications. While there are many good signal analysis and general purpose math programs available, Wavesmith was designed from the bottom up as an analog waveform development system.
To find out more about Wavesmith or to download a demo version, select the appropriate link to the left.
While you're here, pick up your FREE copy of SoundArb, a program created by David Sherman Engineering Co. which turns a standard PC sound card into a rudimentary function generator. SoundArb was featured as a Design Idea in EDN magazine.